Bechtel also delivers the belt fasteners for installing your elevator belt. Available in different kinds of fasteners (normal, speedy or belt clamps) for all kinds of elevator belting.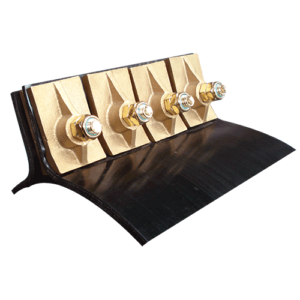 Belt clamps offer an alternative to the belt fasteners. They are manufactured to your specifications. 2 models are available.
Belt Fasteners, Speedy Model
3-part belt fastener made of cast iron or bronze, standard width 50 mm, suitable for maximum belt loads of 800 kg/cm.
Belt fastener models 1, 2 and 3
Available in plain steel / galvanized and stainless steel 1.4301 (grade 304) / 1.4571 (grade 316Ti)
Example of the assembly of 4 belt fasteners for belt widths between 200 and 230 mm. The distance between the belt fasteners may be somewhere between 0 and 10 mm.
View our calculations for Elevator Parts