Adjustable Hanging Bearings
Adjustable Hanging Bearings
Adjustable hanger bearings from Bechtel are available from stock in shaft sizes 40, 50 and 60 mm. Larger shaft sizes are also available on request. The hanger bearings are made of cast iron, bronze or stainless steel.
Available with inserts of Nylon, bronze, teflon, PTFE or acetal. Complete with spindle M24 with a length of 165 – 320 mm. These spindles are equipped with a lubricating channel Ø8 mm with a connection for 1/4″ gas. A galvanized version as standard, but also available in stainless steel.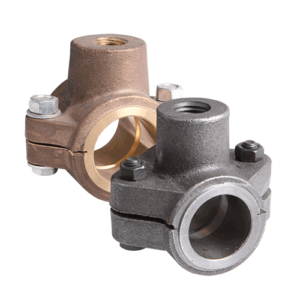 Spindles are available in lengths off: 165, 230, 280 en 320 mm.
View our calculations for Conveyor Screws